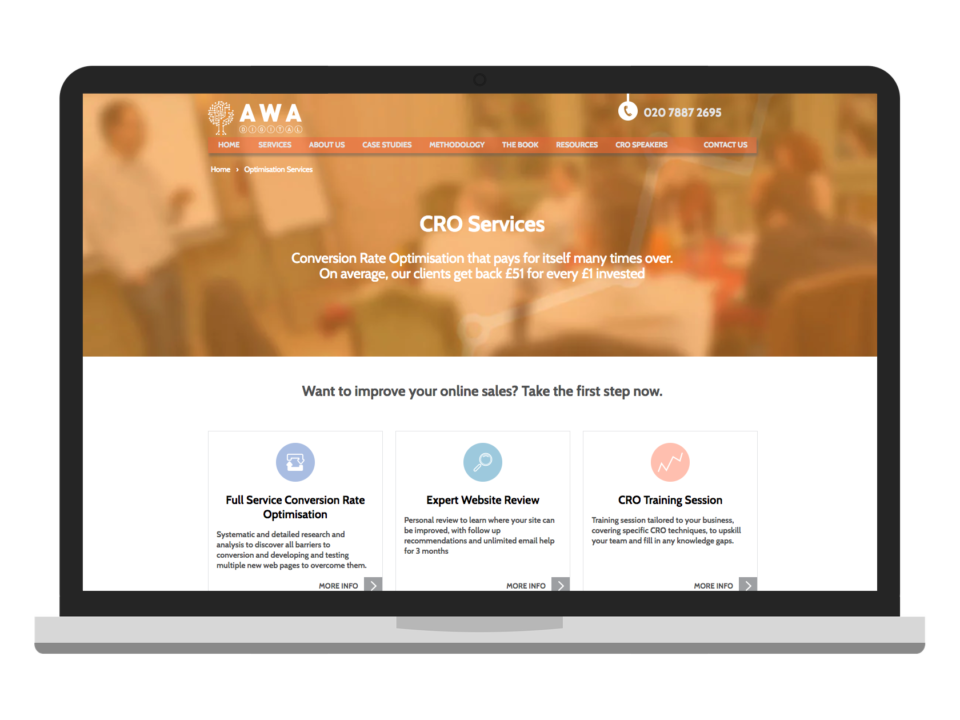 AWA Digital
Ecommerce Conversion Optimization Experts AWA digital serve a client base which includes Barbour, Dune, Lyle & Scott, Blacks, Cotton Traders and Richer Sounds. Through a combination of deep-dive website analysis, laser-like focus on conversion killers and advanced A/B split-tests, AWA deliver guaranteed increases in the website conversion rates of their clients' e-commerce sites.
We have provided a number of services which have helped to keep AWA digital's own website and the websites of selected AWA digital clients up-to-date and ahead of the pack. This work has included extensive webpage coding work on the AWA digital website, designed by Binarydrive; the setting up of Campaign Monitor newsletters; and the coding of a bespoke WordPress blog which is a major traffic-driver and source of prestige for the client (read it here).
Perhaps one of the most intriguing aspects of our work with AWA digital has been the use of the A/B testing tool Optimizely. Created by ex-employees of Google and Barack Obama's presidential campaign (read about how A/B testing helped Obama become President here), Optimizely allows users to easily create new webpage variations to test AWA digital's hypotheses. Castlegate IT provides custom code snippets for use in Optimizely which change the appearance and behaviour of the chosen sites, allowing AWA digital to get the most out of this A/B testing technology.
One of AWA digital's split-tests, for which Castlegate IT provided the development support, was the conversion rate 0ptimisation of an e-commerce site selling toys, food and accessories for parrots – Northern Parrots. This split test has resulted in a massive 34.7% sales rise, far in excess of AWA digital's money back guarantee of a 20% increase.