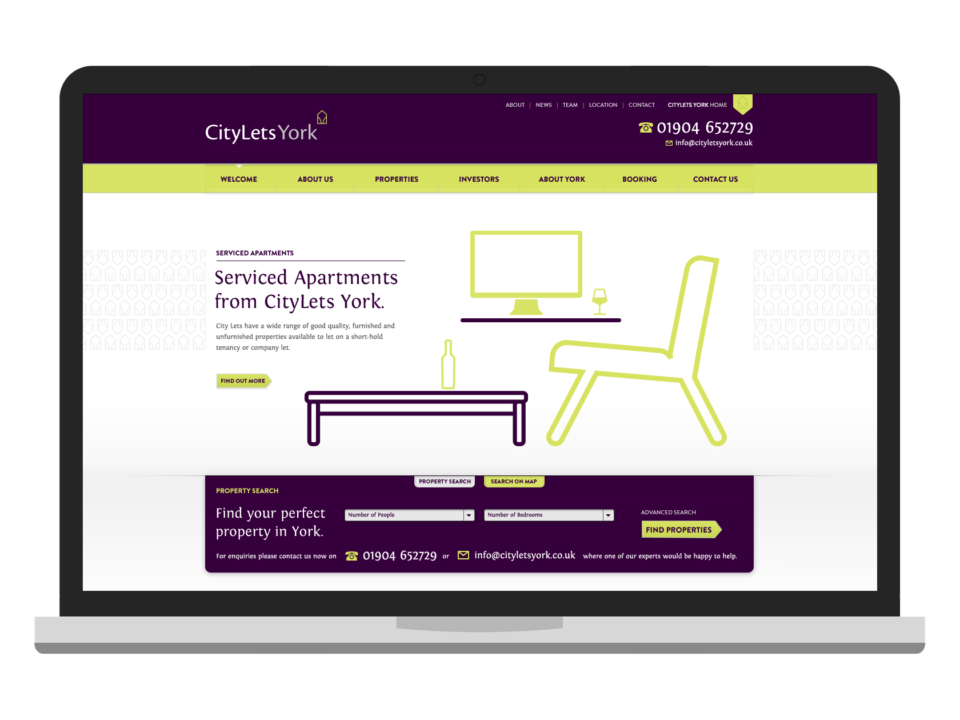 Citylets York
York Letting Agents City Lets are a friendly, independent and highly professional property letting and management agency based in the centre of York. They have been long-term clients, with their website evolving to meet their developing needs.
The site uses a flavour of our bespoke property management application with the usual features such as a 'book a viewing' facility, image galleries for each property, a 'recommend this property to a friend' feature, social media integration, and mapping. The site uses Google's free geocoder to attempt to turn an address into a map marker, but there's also a neat  admin control which allows you to drag the marker about – this is vital if Google doesn't recognise the address or just simply gets it wrong, but also useful because Google normally doesn't pinpoint the individual property.
We also customised the application to offer multiple categories of lets and a devised a calendar system to allow users to book short-term corporate serviced lets. City Lets make good use of the automated portal feed from our system. Their property adverts on Rightmove, PropertyLive, Zoopla, Findaproperty (and all the Digital Property Group sister sites) and PropertyPlace are all updated daily from the website. This has saved them an enormous amount of time maintaining the property details on these sites.
The system generates printable brochures and info sheets used as window posters. In 2011 we retrospectively integrated the site and the property catalogue with the WordPress CMS to allow City Lets to manage the news stories and other site content themselves.
All of these features are available in off-the-shelf commercial web packages, though few provide all these facilities and those that do tend to cost the earth – requiring a huge outlay for the purchase. We were able to build the system entirely around their needs as they developed, meaning that the cost was spread over half a decade, and the resulting system fits their needs far better than anything off-the-shelf.
One thing that we don't think you'll find in any off-the-shelf package: A few years ago, it became mandatory to display EPCs with property details. City Lets have a contractor who generates EPC reports in PDF format. We came up with an extremely nifty bit of code for them which took these PDFs and automatically extracted the graphs for display on window posters, as well as separately pulling off the first page of the EPC report for display on the website.