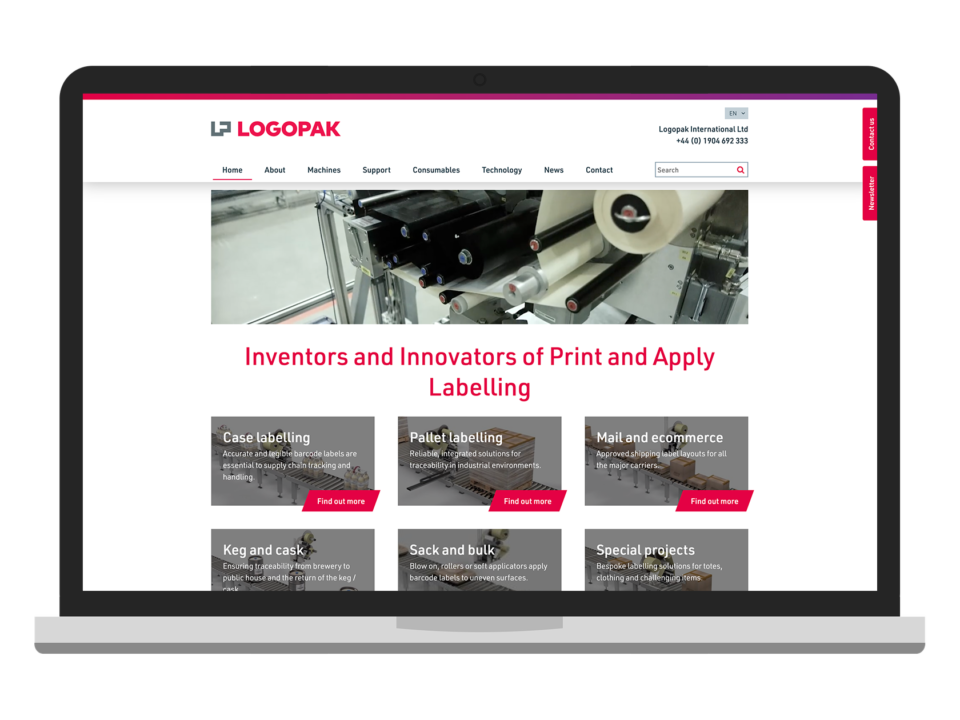 Logopak
Logopak is a leading manufacturer of print and apply labelling systems, supplying machines to companies throughout the world. We developed their previous UK site in 2012 and were delighted to be able to update it this year with an entirely new design, bringing a modern and accessible theme to this established international brand.
The site uses responsive design, which means the layout expands and contracts to fit your screen, whether it is a wide desktop monitor or a small phone screen. The new site theme makes greater use of white space, the sharp angles based on the company logo, and interactive elements to give a sense of movement and visual interest. The result is a site that is recognisably Logopak while also standing out from the crowd.
Photos, videos, and animations are all important parts of this site and we made sure these were featured prominently on the new site. From the home page video to the image and video galleries, site visitors will visually engaged wherever they are on the site. News and PDF downloads provide other ways of displaying important information and search features and easily accessible contact forms help visitors find what they need quickly.
Behind the scenes, the site is built with WordPress, using the latest technologies to provide a simple and secure way for the client to edit the content.