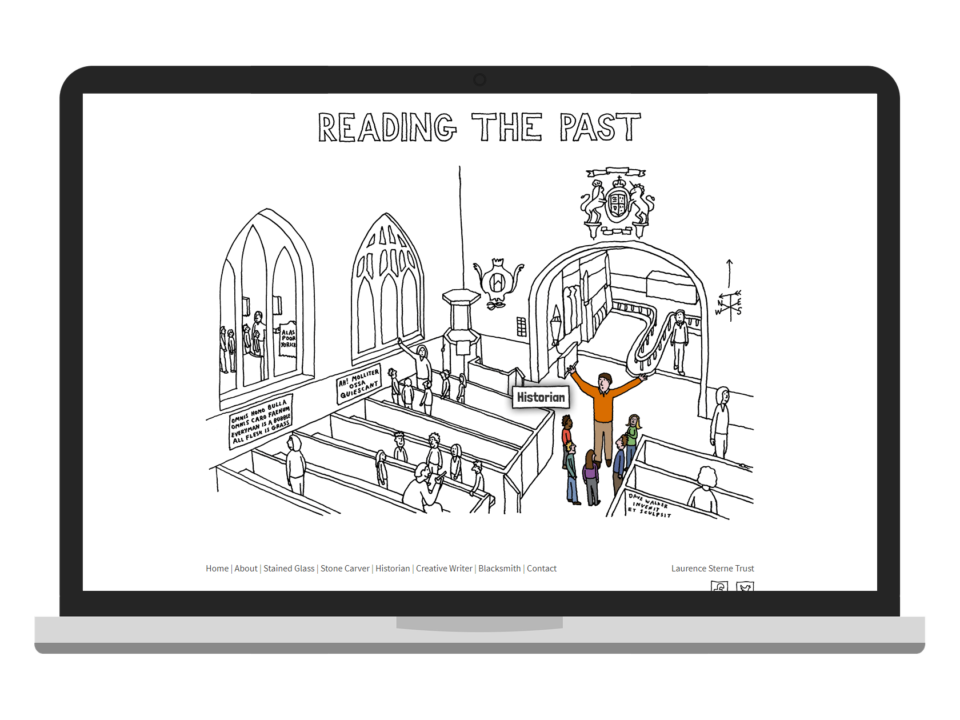 Reading the Past, Writing the Future
Reading the Past, Writing the Future is an educational project devised by The Laurence Sterne Trust, the charity dedicated to promoting the works of innovative 18th Century novelist Laurence Sterne. Sterne is best known as the author of the left-field literary classic The Life and Opinions of Tristram Shandy, Gentleman, but he was also a vicar at the Church of St Michael, Coxwold. Reading the Past, Writing the Future offers visiting groups of primary school children a chance to experience these two sides to Sterne simultaneously at his former church, with expert guidance from an historian, a stained glass maker, a stone carver and a creative writer.
We were commissioned to design an attractive, stylised and simple-to-use website for the Reading the Past, Writing the Future project which could easily be updated with high quality content by the site's owners. Our response to the brief was to create a website which appeals to younger users and contains all the necessary information for parents or teachers planning a visit to the project.
We had the pleasure of working with the illustrations of cartoonist Dave Walker in our site design – the user interface of the site is built around his style and the homepage is based around one large illustration (see main image, above, right) which navigates to different pages on the site. We made this illustration interactive, with each feature of the illustration that contains a link changing colour when hovered over or when the page is idle.
The success of the Reading the Past, Writing the Future website owes much to the quality of the rich media – such as videos and images – and copy chosen by the site's owners and used throughout. We ensured that the website would be easy to update with high quality content by creating a bespoke WordPress CMS for the client. This content management system features special fields that allow videos to be embedded seamlessly within webpage templates and images to be automatically displayed within an attractive panel or lightbox view.