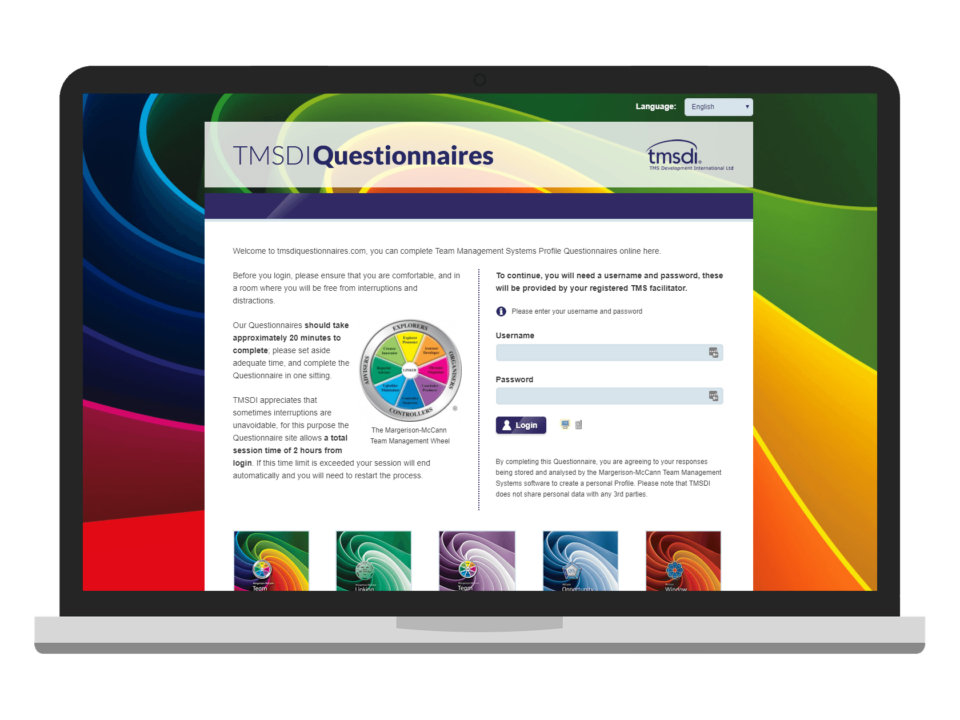 TMSDI Questionnaires
Corporate team profiling experts TMS Development International (TMSDI) bring an integrated approach to personal, team and organisational performance in the fields of learning and development.
One of the cornerstones of TMSDI's approach is a set of profiling tools known as Margerison-McCann Team Management Profiles. The company had long since applied these tools in face-to-face consultations, but having spotted the potential for users all over the world to simply fill in their profiling questionnaires online, they now sought an elegant, online platform. After discussing this objective with the client, we resolved to create a questionnaire application which would be sleekly designed, multilingual and optimised for viewing and responding via mobile phone.
We built a bespoke application, using a lightweight, in-house custom MVC framework, that allows the app's users to complete questionnaires in order to generate their TMS profiles. The system generates files to a specific format that can be used by TMS software to turn the answers given into the client's profile document.
The application is multilingual, supporting 15 languages at the time of writing, and offering support for right-to-left text.  The site has been built to allow the administrator(s) to continue adding languages – or even custom variations on existing languages – indefinitely, using a clever 'snippeting' system. This was a complex task, with about 800 separate text snippets requiring translation and formal checking before the app could go live.
The application offers a specially optimised version for visitors using mobile devices through jQuery mobile.  The system will auto-detect the type of device used – laptop, smartphone, tablet, etc. – and choose the correct site accordingly. It is also possible for the user to make the choice manually.
With such a sophisticated operation, control over access to the various questionnaires and respondents' data has to be distributed internationally, which requires a complex and secure back-end administration system with granular access. This system is critical to the business and up-time is a high priority; used by thousands of people every year, it had to be professional and very robust – the hosting environment and backup almost as crucial a factor as the coding. Once again, we turned to Heart Internet's dedicated server for optimum performance and reliability and the nuclear bunker storage of Databarracks for data security.
Originally designed in-house by, the site was recently re-skinned to bring it in line with TMSDI's other online applications. The current design was created by Bluestorm Design & Marketing.