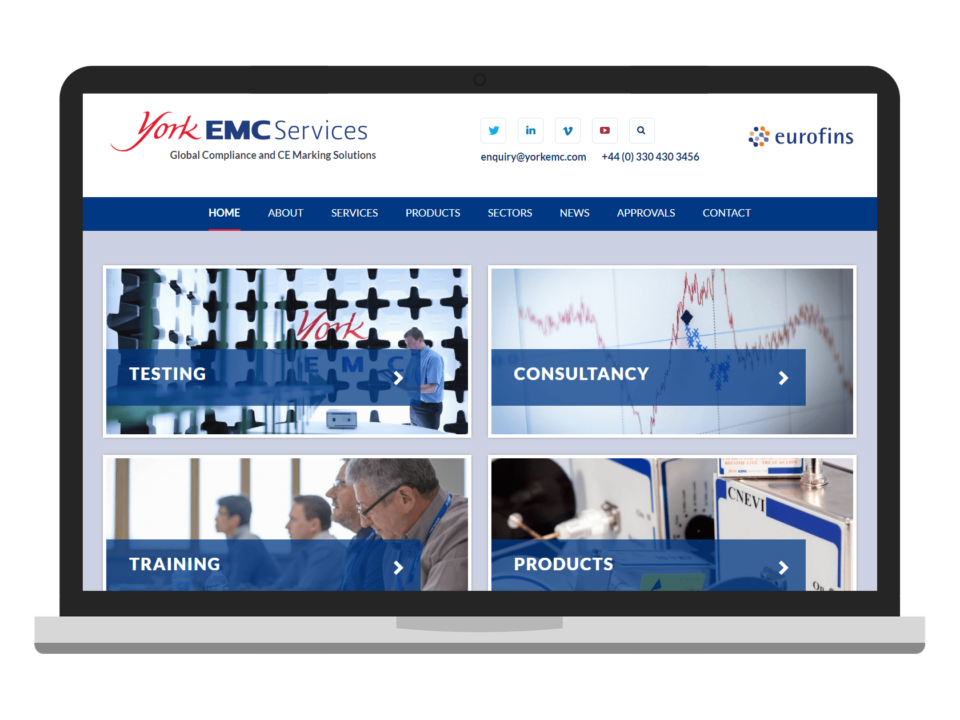 York EMC Services
York EMC Services are a York success story, globally well-respected in the field of EMC compliance, having started out as a small spin-out company from the University of York's Electronics Department back in the 1990s. They provide certification to EMC, radio, electrical safety and EMF standards for electrical and electronic equipment (so our gizmos don't interact with each other, and us, badly), as well as providing equipment, training and consultancy to companies all over the world.
We built a site for them in 2010 but six years later this was looking dated, and needed a serious restructure and reworking. The CMS on which it was built was also getting quite long-in-the-tooth, and having set up their own WordPress site York EMC were keen to move entirely over to the newer system.
Our in-house designer put together a much more contemporary and image-led design that would be able to contain the detailed technical specifications that their clients will need to be able to see, but without appearing too cluttered. The old design relied heavily on a horizontally tabbed interface, which would quickly run out of room and perform poorly on mobile. We switched this to a vertical 'accordion' style, familiar to anyone who's ever used Wikipedia on a mobile device.
The site features customer testimonials, custom layouts for production specifications (including a scaleable frequency spectrum diagram rendered as an SVG, which involved some good old-fashioned maths), training course descriptions, location maps, and an incredibly complicated quote request form for all their products.
The most sophisticated bespoke feature was a custom integration with the "Administrate" training course management system, which has been adopted by the University of York and offered to all their associated companies. The system makes a twice daily API call to get course details, times, availability and prices to advertise on the site, associating each with a rich course description and content stored in WordPress. Customers can book these courses online, prompting a fresh call to check that all information is still valid before taking a payment using the SagePay gateway.
The planning, design and development of the system took around nine months in all, but York EMC have been delighted with the result. We have been performing onsite SEO and content alterations and look forward to helping them continue to reap the success of the new site.