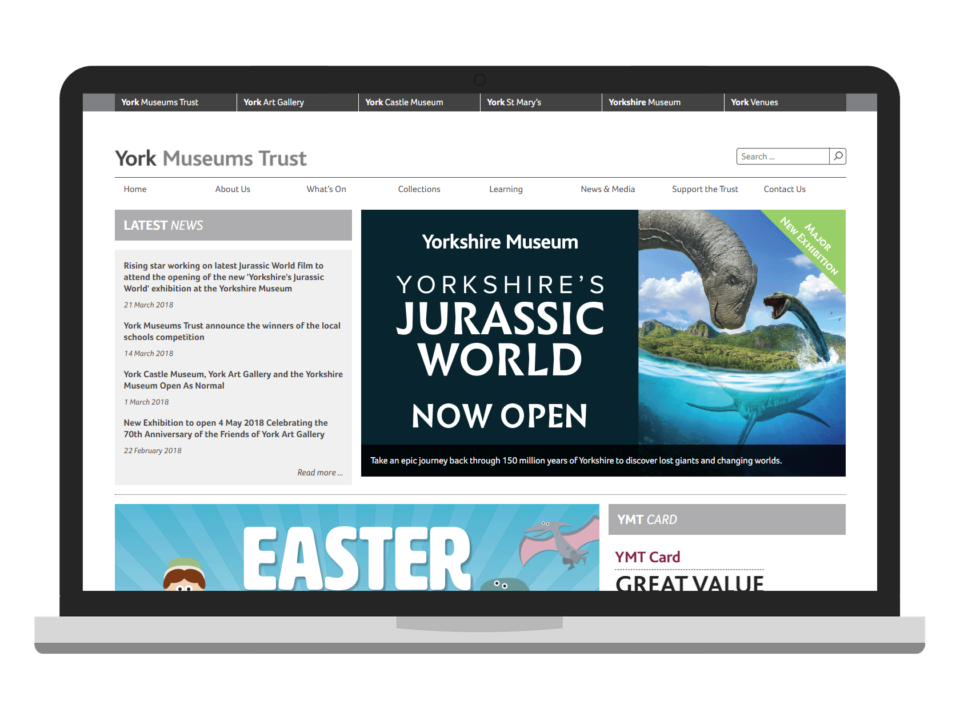 York Museums Trust
York is world-renowned for its heritage and culture. York Museums Trust is at the forefront of York's cultural scene, owning some of the city's biggest tourist attractions and cultural venues, including York Castle Museum, the Yorkshire Museum, and York Art Gallery. We were asked to develop a new website for the Trust and its four most important venues.
Working with Bert, a top Manchester-based design agency, we created an interconnected network of mobile-friendly sites managed from a single WordPress installation. The sites provide visitor information, news, a blog and events, with selective syndication of content between the 'main' Museums Trust corporate site and those of each venue.
As well as being fully content managed using an open-source CMS (the preferred option of both the Trust and Castlegate IT), the sites deal elegantly with embedded videos at different screen widths and provide user-friendly onsite PDF browsing using Flexpaper.
The most exciting aspect of the site, though, must be the integration with the Adlib collection database, which stores data of the tens of thousands of artefacts and exhibits in York Museums Trust's vast and varied collections. Using our custom search interface, visitors can explore the collections by theme, date, creator, material, or by using a free text search of the entire catalogue.