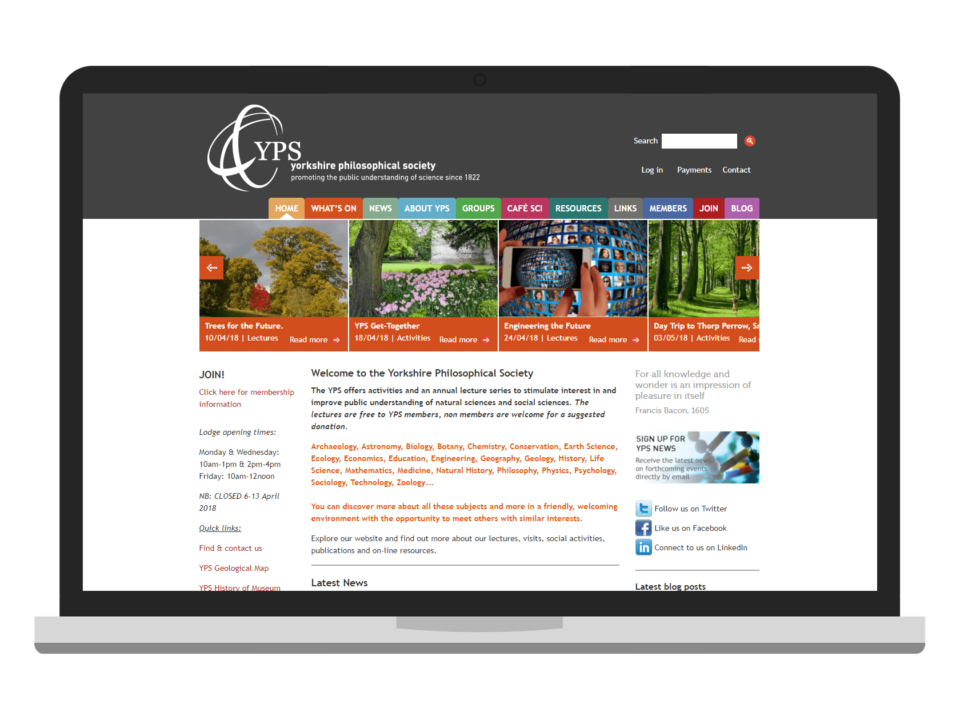 Yorkshire Philosophical Society
Yorkshire Philosophical Society was founded in 1822 to promote the study of antiquities and the natural sciences. Early in its history, the Society founded the Yorkshire Museum and Botanical gardens in the centre of York. Today, it continues to promote the public understanding of science, organising a wide range of events and lectures, including the popular Café Scientifique.
The Society asked us to provide a complete redesign of their website. They wanted a new look, but also an expanded online presence involving social media, lots more information on their events, and a mobile website to reach a whole new audience.
Working with Bivouac, we designed a brand new website, featuring a detailed events section with an interactive calendar, maps, and search facility. The site was built with WordPress, making it easy to manage and add events, images, and galleries. The events system uses a WordPress plugin called Events Manager, a remarkably fully-featured system with calendars, mapping, geolocation and booking facilities out of the box even on the free version. We had a good play with this, turning off some features and heavily customising others.
The site has an extensive members area, with various different levels of access to pages and downloads. Even though there are lots of WordPress plugins that claim to protect downloadable content, most are pretty clunky or require a lot of technical knowledge by the user, so we ended up creating our own – fairly ingenious – method, which will protect material uploaded into the normal WordPress media library.
Best of all, the site uses a new technique called responsive web design to adapt to different screen sizes, meaning the site looks good on all devices, from tiny mobiles to large desktop computers. This means there is no need for a separate mobile site, making it easier for clients to manage and for developers to maintain. It is also very reliable, using standard web technologies, and so a responsive website will work just as well on older browsers.
You can follow the Society on Twitter, Facebook, and LinkedIn. Yorkshire Philosophical Society plan on introducing a range of new features to the site soon, so watch this space for updates!
You can also read more about responsive web design on our blog.