WordPress for bespoke development
WordPress became famous as a reliable and straightforward blogging platform. It is still a great choice for publishing your thoughts on the web, but it has since grown into a general purpose website platform suitable for all kinds of bespoke applications. We use WordPress to develop nearly all our sites because it can be customised and extended to meet the needs of even the most complex websites.
WordPress is a great starting point for any website. It is quick and easy to install, the interface is simple and familiar to many users, it is immediately ready for content, and it has fantastic support and documentation. Just installing WordPress gives you a significant head start when you are building a website.
The best thing about WordPress, however, is that it's open source and designed to be extended, meaning that the platform's true potential can be unlocked through IT expertise, turning what started life as a basic blogging platform into a framework for technically complex and competitive websites.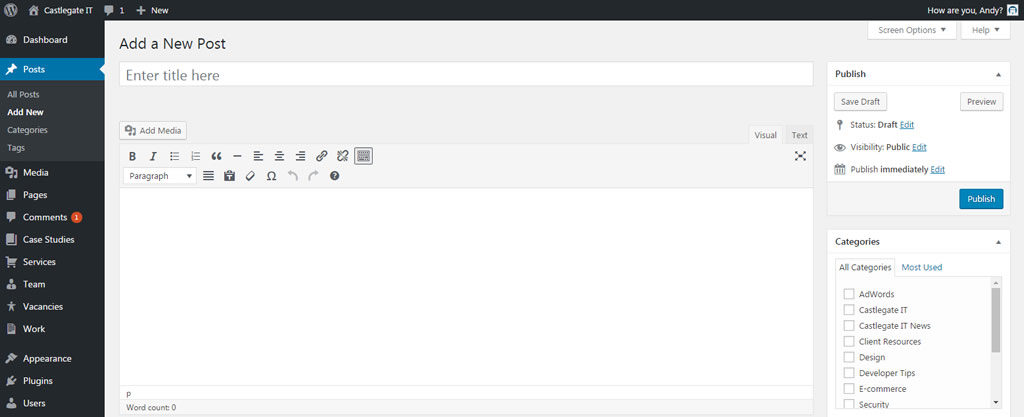 We are PHP developers, which means we write software in the same language that WordPress is written in. We can add (or remove) features in the WordPress admin panel, define new types of content, manage users, add new ways of categorising content, and extend the core functions of WordPress with plugins.
Nearly all our websites include custom fields, including specialist search engine optimisation fields, and user interfaces tailored to meet the needs of each client. We have added image galleries, event management systems, interactive maps, historical timelines, and many other custom features to our websites. We have also written general purpose plugins to speed up the process of making common changes to the WordPress admin panel.
By setting up WordPress on standard hosting, choosing a theme and buying a domain name, it's easy enough to create a decent website within a set template. However, if you want a site that beats your best-equipped competitors you'll need a bespoke system which is perfectly fit for purpose.
You may also like
Categories
Archives