Castlegate IT rides a big bad ride
If you follow us on social media, you won't have missed the fact that Team Castlegate rode this year's Big Bad Bike Ride. Team Castlegate consisted of five Castlegate employees/directors and one former employee. Most of whom were first time Big Bad Bike Riders and half of whom had never ridden long distances before in their lives!
Jim and Richard had both taken part before – Jim in Scotland in 2012 and then both of them taking part in the 2014 ride in York. In a remarkably demonstration of confidence and physical prowess, Jim completed that 2014 ride riding a tandem unassisted. Richard, meanwhile, repeatedly stopped en route to busk for additional money (with little success).
The ride is 100km long and open to all – it is not competitive and no times or placings are recorded. It first took place in 1991, raising money for Ataxia UK to fund research into Friedrich's Ataxia and related genetic disorders. It is the brainchild of Graham Kennedy, also famous as the owner of the locally-famous Inner Space Station petrol station and self storage on Hull Road, and a long-time client of ours. Two of his children suffer from Friedrich's Ataxia, a degenerative disease of the nervous system in which nerve cells slowly shut down, ultimately trapping the sufferer in an unresponsive and insensate body. There is, as yet, no treatment or cure. Castlegate director Richard has long been aware of the disease, as he had a cousin – Peter Bayliss – with the condition. Although told that he wouldn't see out his thirties, Peter lived a remarkably full life, gaining a degree and becoming a published author. He finally succumbed to the disease in 2014 at the age of 59, only a few weeks after Richard carried a picture of him around that year's Big Bad Bike Ride.
So we were very proud this year to help the ride pass the £1 million mark this year. Three member of Team Castlegate were starting from scratch with new bikes bought for the ride – director Andy even rebuilding his bike beyond all recognition (and in Castlegate colours!) Preparation was uneven – ranging from one team member who'd only really ridden his bike once before, to another who rode the route three consecutive weekends. But we managed to get a few Team Castlegate training rides in before the day.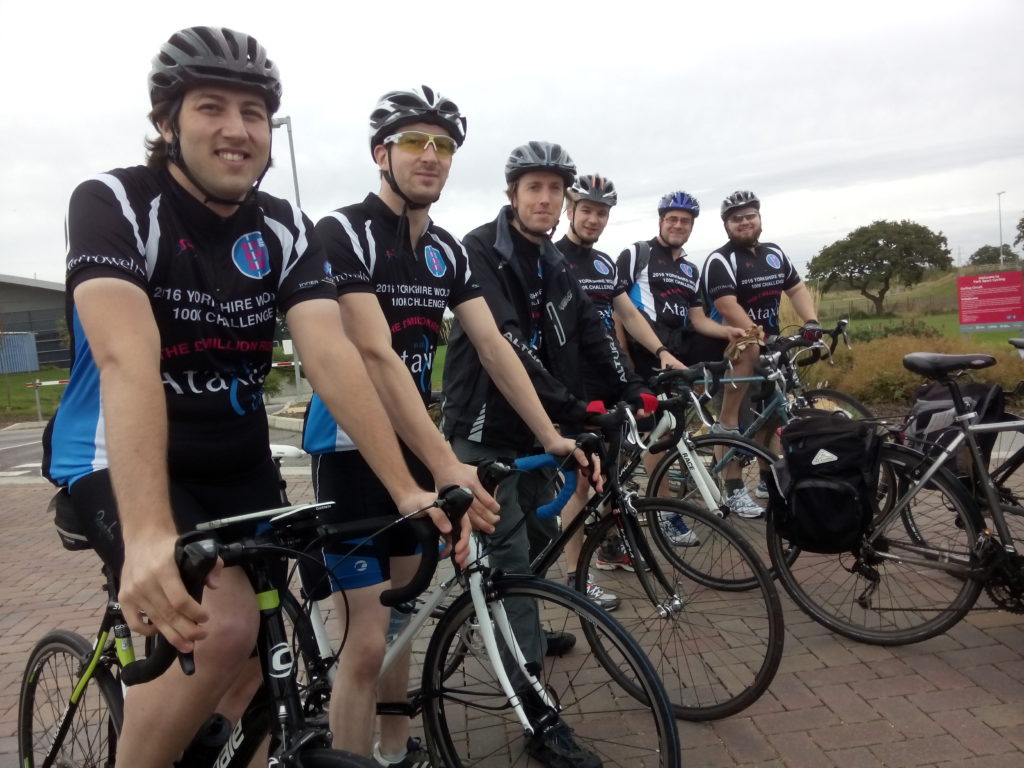 Despite intermittent rain, lively headwinds, and one team member arriving at the very last minute (and without the mandatory helmet!), we all made it round the course without injury or incident. The route took us along quiet backroads out of York to the east, climbing up into the Yorkshire Wolds at Leavening Brow and winding through the pretty valleys of Water Dale and Millington Pastures. We even rode from the last rest point to the finish line together as a team in high spirits as the sun finally broke through.
We'd like to thank everyone who sponsored us – including Noa Noa UK, Blue Door of York, Crossroad Languages, Melton College, CN IT, Mode Design, and Wiles Ltd. As a team we raised almost £800 – and for the time being you can still add to our total by sponsoring Team Castlegate through JustGiving!
You may also like
Categories
Archives