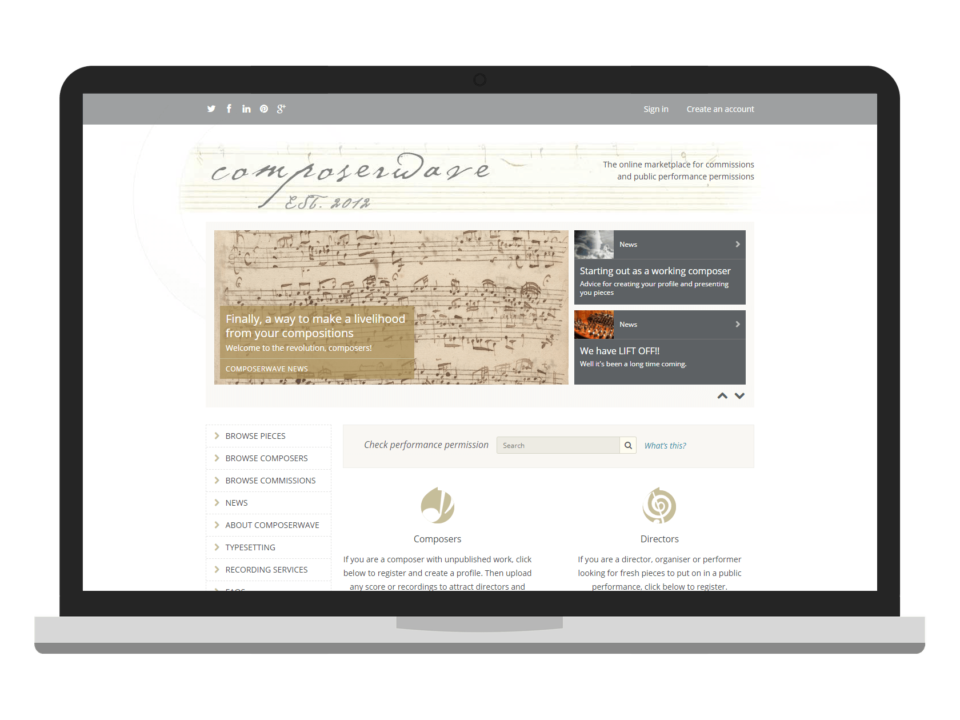 Composerwave
Composerwave is a radical new online performance royalty management system, which could revolutionise the way that music publishing works.
The system works like this: Composers register for a free account, create a profile, list their works and make performance permissions available, either for a single performance or in perpetuity for a particular venue or ensemble. A performance permission could cost as little as 50p, though a composer can also list pieces as being Creative Commons, or can gift performance permissions to anyone they like. Each permission bought or gifted generates a code which performers need to quote in the programme notes (or equivalent) for the performance.
Performer or directors can search the system, peruse the linked media (Composerwave can pull in embedded media from YouTube, SoundCloud, AudioBoo, Vimeo and Bandcamp), and even download the scores (watermarked PDFs), to help them decide whether they want to perform the piece before they pay the fee.
In the fullness of time, the system will also allow performers or directors to commission works from composers – creating a contest to which composers can submit their pieces, with a fee going to the winner.
The site is one of the most sophisticated online applications we've built, tracking income and outcome transactions using PayPal, managing the catalogue of pieces with their associated scores, manipulating PDF uploads, and incorporating a bespoke CMS for news updates. The design is totally responsive, giving a great experience on mobile devices without a massive payload.
For more information see the blog post.