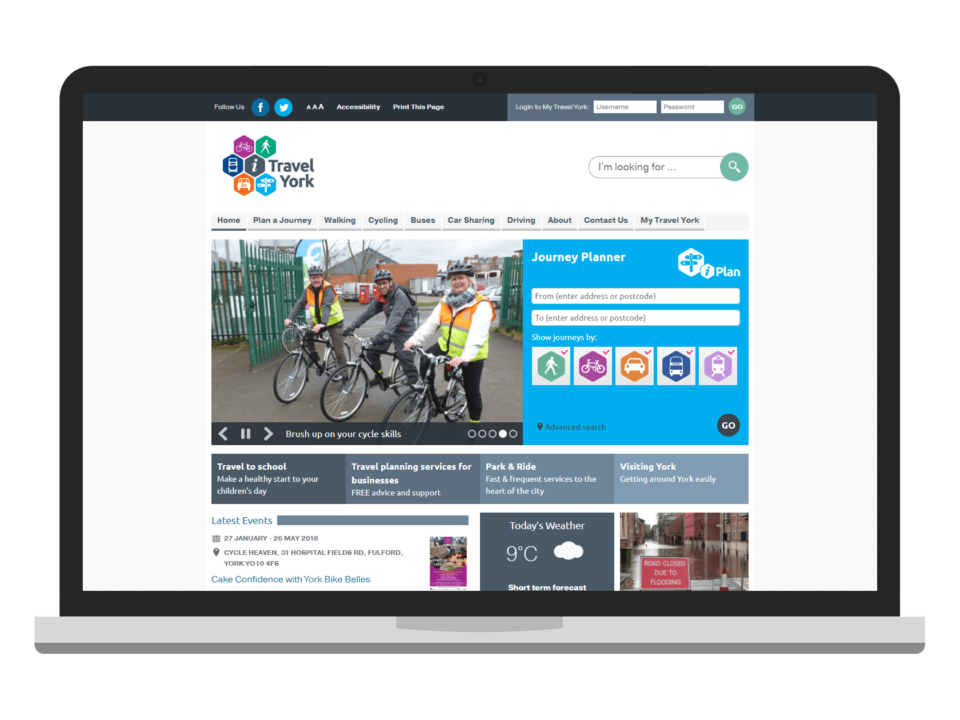 i-Travel York
Intelligent Travel York, also known as i-Travel York, is an ambitious scheme that aims to increase access to public transport, reduce congestion, and minimise the environmental impact of travel throughout York. It builds on the success of Cycling City York, incorporating information and resources on all forms of travel available in the city.
Public awareness is a major part of the project and the City of York Council went to Diva Creative to provide a modern and distinctive identity and design for the new website. We worked with Diva and the Council to turn their static designs into a working site and make it accessible to everyone in York.
The iTravel site is packed with useful content and we made sure the site had a clear structure with plenty of links. Each section has its own colour scheme, giving it a clear identity and making it easy to navigate. We also produced custom image galleries, social media feeds, and a weather widget. Maps are another major feature of the site and we included the ability to add customised responsive Google Maps.
It is important that the site reaches as many people as possible and accessibility was a key concern. We built the site to the AA standard using the Web Content Accessibility Guidelines 2.0 to ensure maximum usability. Integration with social media and interactive features, such as the My Travel bookmarking system and user surveys, mean more engagement with real people around York.
We also wanted to make the site available to people on the move, whether they are using a laptop, a tablet, or a smartphone. We used responsive design, so the design can adapt to the current screen size. This means the site works just as well on a smartphone as it does on a desktop screen—and without creating two different versions of the website.
We used ExpressionEngine to build the i-Travel website, which a very versatile content management sytem. The admin system makes it easy to update the content, page structure, image galleries, and maps throughout the site.
You can read more about the new website and the i-Travel programme in our blog.