Castlegate IT's 2015 in review
2015 has been an important year for Castlegate IT. We have taken on new staff, moved to a new office, and added an impressive range of projects to our portfolio. Our clients now include local government, museums, national education organisations, and numerous businesses from around York and beyond. With so many sites going live, we can't possibly feature them all, but here are a few highlights from this year.
Academic research can be used to develop more effective teaching in schools, but getting that research into the hands of teachers can be difficult and time-consuming. The Institute for Effective Education and Sandringham School approached us with the aim of building a unique resource for teachers, based around a simple question-and-answer structure, which lets teachers get the evidence they need quickly and easily. The result is Evidence for the Frontline.
The new system was designed and built entirely in-house, using the state-of-the-art Laravel PHP framework. Teachers at participating schools can post questions, which are then answered by expert researchers. All content is moderated and both questions and answers allow comments, so answers can be refined and improved. School and user profiles, combined with tags, are used to organize the various threads on the site. The project is currently in the pilot stage, but has the potential to reach schools across the UK. Read more about Evidence for the Frontline in our portfolio.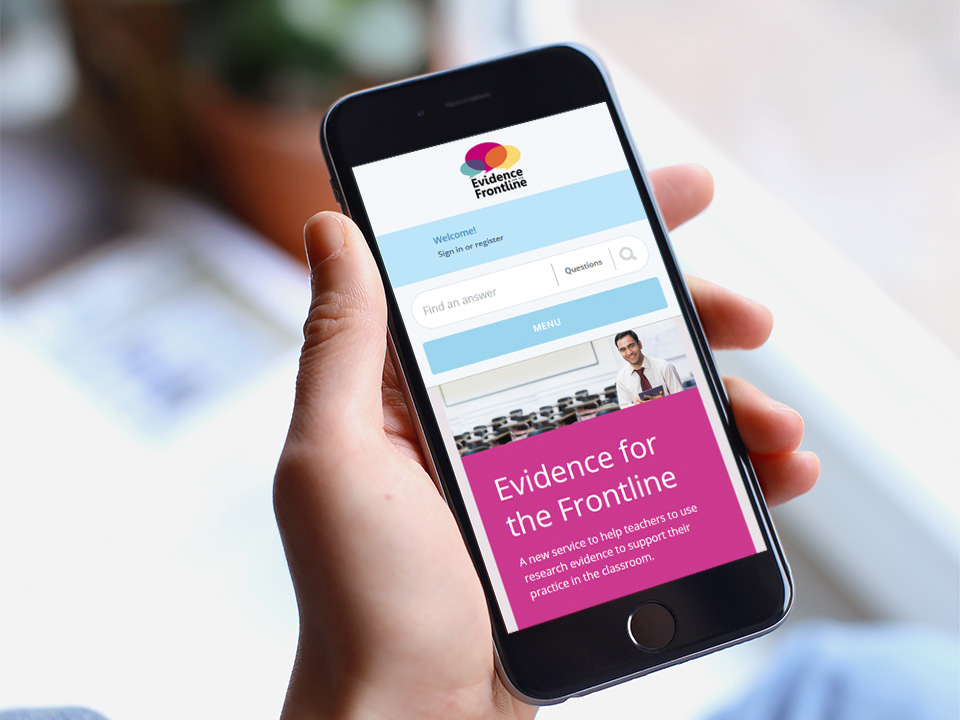 In August, York Art Gallery reopened after an extensive redevelopment over the past two years. The gallery is part of York Museums Trust and an important attraction and cultural resource in the centre of York. We were delighted to build on our existing work with the Trust and launch a new website in time for the official opening of the new Centre of Ceramic Arts earlier this year. The site is part of a highly customized network of WordPress sites we have produced for the Trust, making full use of our bespoke programming skills.
The York Museums Trust sites share branding and design elements, giving a coherent identity across their range of venues. Within this framework, the York Art Gallery website uses visual imagery to display the gallery's many works of art. It also makes use of colour to differentiate it from the other Trust sites. Like all our latest work, the new website is responsive, which means it looks great on mobiles, tablets, and desktop computers. Read more about the York Museums Trust sites in our portfolio.
York Open Data is a repository of public data, started by the City of York Council and now expanding to include other organisations. It is a key part of the council's commitment to transparency and open government. Our design and custom code work provided an attractive, usable, and useful platform for this vital public resource. Read more about York Open Data in our portfolio.
Local businesses
We are based in the centre of York and have always supported other local businesses, big and small. This year has been no exception – to name but three:
Stove Service have been keeping York warm with fireplaces and wood-burning stoves for 35 years. We designed and built a new, modern site for them, showing off their work and testimonials ready for the cold weather.
The Watergate Inn is just up the road from us on Walmgate and is a favourite with residents and tourists alike, offering food, accommodation, and live music. They asked us to produce a new website, with a fresh design, in keeping with their welcoming image. It also provides access to their online booking system, so site visitors can arrange their stay in York.
Big Cat Garage is York's leading independent Jaguar specialist, with 30 years of experience of repairing and servicing. We designed and built an attractive site for them, using striking photography of new and vintage cars, giving the business the luxury appearance it deserves.
Responsive websites
All our recent sites have used responsive web design to make sure that they work on all devices, from the smallest smartphones to the largest desktop computers. Maintaining a single site, instead of separate mobile and desktop versions, is easier for clients, clearer for site visitors, and makes sure that your business reaches the widest possible audience.
You may also like
Categories
Archives